Helmut Pöser, Master Violinmaker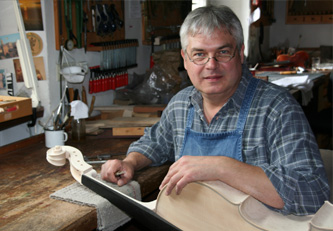 Born in 1956 violin lessons and graduate at Max-Reger-Gymnasium Amberg Mittenwald School of Violinmaking
Worked with Otto Laudi Regensburg and Peter Benedek Munich
Master examination in 1988
Since 1989 working as a self-employed violinmaker in Regensburg
Specialist in baroque instruments
Manufacturer of fingerboards and tailpieces for baroque instruments, that can be ordered from all over the world
Aurelia Schoplick, Master Violinmaker
Born in 1973
I'm interested in music since I can hear, at the age of five I started to play the violin and had singing-lessons for years.
My craftsman talents led me to the famous Mittenwald School of Violinmaking. So I could combine music and craftsmanship.
In 1997 I left the Bavarian Alps with my certificate of apprenticeship. Since then I live in Regensburg working with Helmut Pöser – since 2003 as a Master of violinmaking.
Many times I exchange workshop for stage and go on living my enthusiasm for singing and violin playing.